ABOUT HON. ADEOLA SOLOMON OLAMILEKAN
ADEOLA, SOLOMON OLAMILEKAN was born in Lagos Island maternity hospital. He was born to the family of Mr. and Mrs. Ayinde Adeola Ogunleye.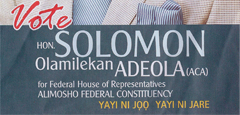 He grew up in Alimosho where he began his formal education at state primary school in Alimosho, Lagos. He proceeds to community Grammar school Akowonjo, Lagos for his secondary Education. Due to his great quest for knowledge and his desire to impact positively on society, he subsequently proceeded to the prestigious Ondo state polytechnic, Owo now Rufus Giwa polytechnic, Owo, Ondo state where he bagged a higher National Diploma (HND) in Accounting. He is a distinguished Chartered Accountant-Associate Institute of Chartered Accountants of Nigeria, (ICAN).
He had a stint with "The Guardian Newspapers Limited" for 12 years and he rose to the position of Accountant. Later, he proceeded to Olatunji Omoyeni and company, a chartered accounting firm, where he led the audit team for several years. He was later promoted to the position of a senior Auditor.
He later floated his own company, SOOTEM Nigeria Limited, where he is the Managing Director and chief Executive officer. Because of his determination to serve humanity, he contested keenly for the house of assembly seat of Lagos state, House of assembly in the year 2003 and convincingly won the seat and he is still serving till date representing Alimosho constituency 02 under the auspices of Alliance for Democracy (AD) 2003, Action congress (AC) 2007 now Action congress of Nigeria (ACN). He is a member of several select/Ad-hoc committees which include:
Budget and Economic Planning
Health committee
Human right and public petition
Special duties
He is the chairman house committee on finance and joint chairman Appropriation Committee. He was outstanding in his chairing of these committees and that led to the passing of many bills into laws, the foremost among them is the internal Revenue Autonomy Bill.
As chairman and joint chairman on finance and Appropriation committees, hon. Olamilekan has facilitated and participated in close to a hundred conferences, course, workshops, exchange visits, learning tours and election monitoring within Nigeria, across Africa, in Europe and United States of America. That has enriched his parliamentary, legislative, constitutional, democratic knowledge and skills.
A parliamentarian per excellence; Hon. ADEOLA Olamilekan Solomon feels that people should have access to the basic necessities of life without hindrances. He believes in the enthronement of democratic tenet, principles of justice, rule of law, equity and civil liberty. He is also of the view that there should be entrenchment of true federalism in the Nigerian polity and supremacy of the people's constitution.
Hon. ADEOLA Olamilekan Solomon has an unusual capacity for hard work, discipline, courage and determination to excel. He left no one in doubt as to where he stood on several issues and he is a patriot of the highest order.
He has facilitated and influenced the following projects and accomplishments in constituency 02 of Alimosho:
Facilitating distribution of transformers to every nook and cranny of Alimosho constituency 02
Construction of ljegun road, Alimosho, Lagos state
General Hospital at Igando, Alimosho, Lagos state
Pipe-born water for the police officer's wife in Idimu, Alimosho, Lagos state.
He participated and led his constituency in the struggle for the release of the Local government fund withheld by the Federal government in respect of local government creation. He was in the forefront of the struggle for the release of the remaining part of the N34 billion previously held by the Federal Government.
Apart from this, hon. Adeola Olamilekan Solomon has positively touched the lives of many families, individuals, groups and associations, youths, women and men in various forms:
Provision of WAEC/GCE forms to youths each year and ensure their success through privately organized coaching, motivation and monitoring.
Provision of Financial support to numerous members of his constituency. Provision of succour to many artisans and individuals to alleviate poverty.
Material and financial support to communities, clubs, associations, Mosque, Churches and NGO's, etc.
Maintenance of cordial and mutual relationship with traditional chiefs, Baales and Royal Fathers within his constituency.
These are just to mention but few of his numerous achievements.
With the foregoing, hon. Adeola, Olamilekan Solomon is of the view that there will be more opportunities for poverty alleviation, job creation and youth empowerment when he is elected into federal House of Representatives.
He is happily married to a beautiful wife, temitope Adola and is blessed with lovely children.
ANTIDOTE FROM THE CANDIDATE – HON. ADEOLA OLAMILEKAN SOLOMON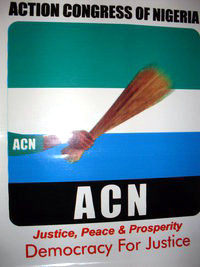 Dear good people of Alimosho Federal constituency
As you all aware, General Election is around the corner of which I am seeking election into the Federal House of Representatives as an Honorable member representing Alimosho Federal constituency.
I am hereby using this medium to humbly appeal for your loyalty, support and urge you to vote convincingly for me as a member of the Federal House of representing Alimosho Federal Constituency under the platform of ACTION CONGRESS of NIGERIA, our great party.
Please pardon me to have used this medium to write you as it appears to be no other way open for me to intimate you about my intention because the chances of speaking with you on a one on one basis are very slim.
Alimosho Federal Constituency needs an erudite, articulate, hardworking and a positive result oriented representative as an honorable which we all know can only be achieved if the responsibility is entrusted onto a person of my kind who has enormous administrative experience.
As the greatest challenge that faces us is to consolidate and maintain our position as the state's governing party. We have done it before; we can still do it again. with the political experience I have garnered during my two terms in the state House of Assembly, I pledge to build a symbolic relationship with the governor, with a view to ensure that Action Congress of Nigeria's programmers' are fully implemented by providing an enabling environment for their actualization.

My quest for a seat in the Federal House of Representatives is simply a fitting desire to accomplish some of my far-reach, reformative and transformative programmers. Many of these completed and ongoing projects are set to turn around Alimosho Federal Constituency and position my constituency to a fully functional and viable constituency.
I will further give a new meaning to the name HONOURABLE. My lovely disposition and caring personality will definitely practicalises the dividend of democracy and my input in the lives of many people will capture their hearts.

Therefore your support is highly essential to actualize my plan of action for a seat in the Federal House of Representatives.
I pledge my total submission, willingness to serve and respect for your preference even more than during my two terms in office at State House of Assembly.

Therefore, let's put the right people at the places and at the right time, so that we can be able to deliver the country to ACTION CONGRES of NIGREIA in the forthcoming presidential and Governorship elections.
I am fully committed to this goal, hence the need for your total support.